Getting a boat to win in all race formats is never easy ... but that is the ambition of the shipyard and Jacques Valer for the JPK 1180.
Designing a 100% inshore or ORC boat is quite simple: thin sections, high weight ratio, small wetted area, generous sail area and fairly high displacement.
Designing a 100% offshore boat is also fairly straightforward: increased hull power allowing for less weight in keel and a lighter overall displacement. The rest is up to the architect, who, through his talent, optimises the design.
In the case of the 1180, the subject becomes more complicated ... to win a Middle Sea Race or a Fastnet, you need an offshore hull; but to win a Cowes Week or a Spi Ouest France, you need an inshore boat!
Jacques Valer is probably the best architect so far to combine the two, and he has already proved it with his previous boats (JPK 960, JPK 1010, JPK 1080).
With the 1180, the emphasis has been placed on crewed sailing (8/9), which allows the boat's trim to be played with and exploited to the full.
Symetric spinnaker

140 m²
A boat designed to win it all, inshore and offshore
On this boat, the front sections are fuller than on the JPK 1080 but less than on the JPK 1030.
The tensioned water lines, when the boat heels over, are sufficiently banana-shaped on the axis to clear the ends, drag less water and allow the nose to be lifted well on very strong windy downwind.
The boat speed record is 28 knots, with Sunrise!
Not too light to avoid the traps of the rules and to remain efficient upwind, the boat is yet very lively and planing.
The results are giving reason to Jacques Valer, our architect, because after some great overall victories in the Fasnet, the Middle Sea Race, the Cowes Week and the Spi Ouest France, the proof is there that the hull of the 1180 is more than just attractive: it is terribly efficient.
Jacques Valer is truly a magician!
Our lastest news about the JPK 1180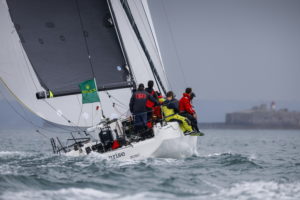 Cette édition 2023 du Fastnet restera dans les annales car les conditions météo terribles notamment au départ n'auront laissé aucuns répit aux concurrents sur un
Read more