L'idée est venue au chantier de concevoir un joli bateau à moteur pour caboter librement sans entrave en privilégiant la qualité de vie à bord.
Of course, nothing can replace sailing... but the pleasure of being on the water and discovering new spaces outweighs everything else.
Notre expérience de la construction de voiliers de régate et de croisière rapide nous permet d'approcher le monde du moteur sous un angle totalement différent, aussi bien en termes de conception que d'optimisation de la construction.
Le constat que nous faisons est le suivant :
Dans la majorité des utilisations, les bateaux à moteur font peu de milles et se limitent au petit cabotage à cause de l'inconfort à la mer (large and heavy boats that "slam") et de la forte consommation de carburant ;
Regarding the sailboat, the habitability is not optimal for the time spent in port (on average, yachts sail between 2 and 4 hours per day in summer cruising).
Many of us dream of having a modern, warm, open-air interior to communicate with a panoramic sea view and a deck flush just above the water.
Notre projet vise donc à séduire aussi bien les « voileux » que les amateurs du moteur en conciliant une coque fine, performante, et des superstructures volumineuses pour une maxi-optimisation du volume habitable … le tout avec une esthétique épurée !
The JPK Nomad 40 is designed to be stable, seaworthy, performant and low on fuel consumption with a real pleasure of driving with a fine passage in the sea, unlike many boats.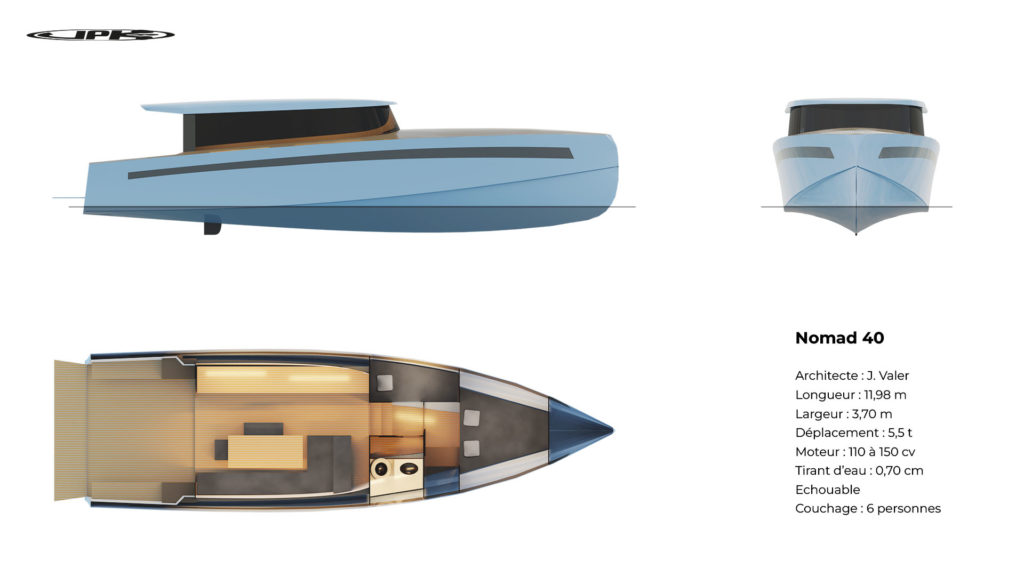 An attractive appearance, a high-performance hull, an improved habitability in a "tiny house" concept, a reduced fuel consumption and a great autonomy: the project aims to be sustainable and opens up a lot of space for freedom.
Baptisé « Nomad », le bateau est équipé de béquilles d'échouage télescopiques intégrées à la coque et facilement rétractables, pour se poser dans tous les coins habituellement inaccessibles notamment à cause de la marée.
The 110-150 hp engine is quiet and not too consuming and allows the boat to reach an optimal cruising speed of 12 knots (18 knots at peak).
Possibility of electric hybridisation for quiet routes in protected areas.
In a "tiny house" spirit, the concept is designed around a living room with lots of windows, completely panoramic, with a long kitchen and a convertible U-shaped lounge/dining room. This unit opens onto the cockpit "terrace" on the same level, leading to a full width bathing platform.
At the front, two steps are enough to go below deck with a double master cabin, a toilet/shower compartment and two bunk beds.