The idea came to the shipyard to design an attractive motorboat for free dock to dock cruising with a focus on quality of life on board.
Of course, nothing can replace sailing... but the pleasure of being on the water and discovering new spaces outweighs everything else.
Our experience in building racing and fast cruising sailboats allows us to approach the world of motorboats from a completely different angle, both in terms of design and construction optimisation.
Our observation is the following:
We have found that in the majority of cases, motorboats do not cover many miles and are limited to short trips because of the discomfort at sea (large and heavy boats that "slam") and the high fuel consumption ;
Regarding the sailboat, the habitability is not optimal for the time spent in port (on average, yachts sail between 2 and 4 hours per day in summer cruising).
Many of us dream of having a modern, warm, open-air interior to communicate with a panoramic sea view and a deck flush just above the water.
Our project therefore aims to appeal to both sailors and motor enthusiasts by combining a thin, high-performance hull with voluminous superstructures for maximum optimisation of the living space... all with a stylish design!
The JPK Nomad 40 is designed to be stable, seaworthy, performant and low on fuel consumption with a real pleasure of driving with a fine passage in the sea, unlike many boats.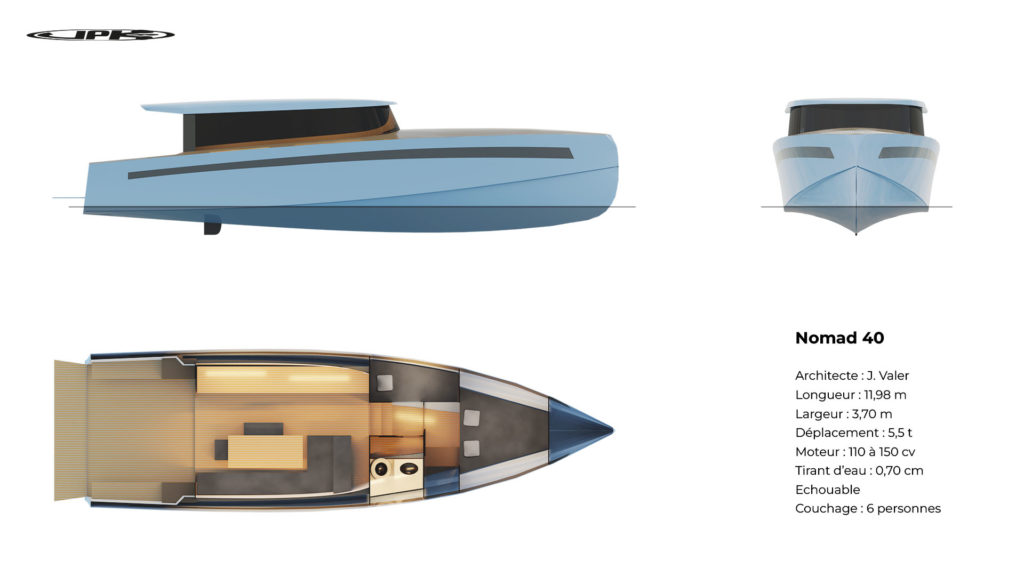 An attractive appearance, a high-performance hull, an improved habitability in a "tiny house" concept, a reduced fuel consumption and a great autonomy: the project aims to be sustainable and opens up a lot of space for freedom.
Called "Nomade", the boat is equipped with telescopic beaching legs integrated into the hull and easily retractable, so that it can be landed in all the corners that are usually inaccessible, particularly due to the tide.
The 110-150 hp engine is quiet and not too consuming and allows the boat to reach an optimal cruising speed of 12 knots (18 knots at peak).
Possibility of electric hybridisation for quiet routes in protected areas.
In a "tiny house" spirit, the concept is designed around a living room with lots of windows, completely panoramic, with a long kitchen and a convertible U-shaped lounge/dining room. This unit opens onto the cockpit "terrace" on the same level, leading to a full width bathing platform.
At the front, two steps are enough to go below deck with a double master cabin, a toilet/shower compartment and two bunk beds.